Our Story About Our Holiday In Ecuador
Located on the equator in northwest South America, Ecuador is known for its great biodiversity, high altitude capital city, Andean history, and exciting array of activities for families, couples, and backpackers.
1. Hike To The Quilotoa Lagoon
Visit this jaw-dropping volcano to take stunning photos of its glowing green lagoon and embark on a challenging hike into (and out of) the crater. Quilotoa stands over 12,500 feet high so prepare to take it slow and steady for an enjoyable experience.
I used a reputable tour company called Ecuatraveling for my Quilotoa day trip and enjoyed the full-day experience as a group trip. I'm smiling in the photo but this was one of the hardest hikes I've ever had to do, thanks to the soft volcanic sand and my not-so-great cardio skills (hello, high altitude). I was the last to make it back up! EcuaTraveling provided me with a press pass for this particular trip, but it usually costs 50 per person. As part of the tour package we visited a local market, Andean home in the mountains, and ate traditional Andean food (amazing soup) at the end of the hike.
2. Explore The Cloud Forest In Mindo
Less than two hours from Quito, visit the cloud forest 7,200 feet above sea level in Mindo, Ecuador. During your visit, you can explore a vast community of hummingbirds, and learn about bird life and the subtropical rainforest ecosystem.  In an effort to support sustainable tourism, I took a day trip and visited the Bellavista Cloud Forest Reserve to hike one of their 20 hiking trails and take advantage of bird photography opportunities. Serious bird watchers should definitely look into this one.
I liked that the trails were not strenuous; great low to medium impact activity for older travelers or those with physical limitations/injuries.
3. Cruise Around The Galapagos Islands
The Galapagos Islands is famous for inspiring Charles Darwin's evolution theory. Home to over 200 known species, nature and wildlife enthusiasts flock to these volcanic islands to cross the world-famous excursion off their bucket list. With 18 major islands dotted across just over 3,000 square miles, small ship cruises are the only way to truly encounter Ecuador's Galapagos Islands. Visitors love that the range of flora and fauna found in the Galapagos differs from island to island. As documented in The Voyage of the Beagle, Charles Darwin found that animals adapted genetically to a given island's unique ecosystem.
Thanks to its remote location and UNESCO/National Park designation, the wildlife of the Galapagos is both plentiful and peaceful. Penguins, sea lions, giant tortoises, and marine iguanas are mostly unafraid of humans. And, as confirmed by Bret and Mary of Green Global Travel, the snorkeling and diving opportunities there are spectacular!
4. Visit The Beautiful City Of Quito, Ecuador
Quito is one of the prettiest South American cities I've been to (I'd say a close second to Cartagena de Indias, Colombia) – and at over 9,000 feet in altitude, also the highest capital city in the world. With the exception of everyone being drastically shorter than me (I'm 5'9″) I rarely felt out of place and loved exploring the city. I stayed at a modern apartment in the safe neighborhood of La Floresta and often took the street metro to get around.
If you need a place to stay, here are some referrals: check out the amazing Quito Airbnb I stayed at. Gorgeous city views and very modern. If Airbnb isn't your thing, try booking.com for highly rated hotel and hostel options. It's my favorite website and I book with them for myself all the time, so naturally I now earn affiliate income from them whenever someone uses my link to book a hotel (at no extra charge to you).
5. Find A Galapagos Alternative At Isla De La Plata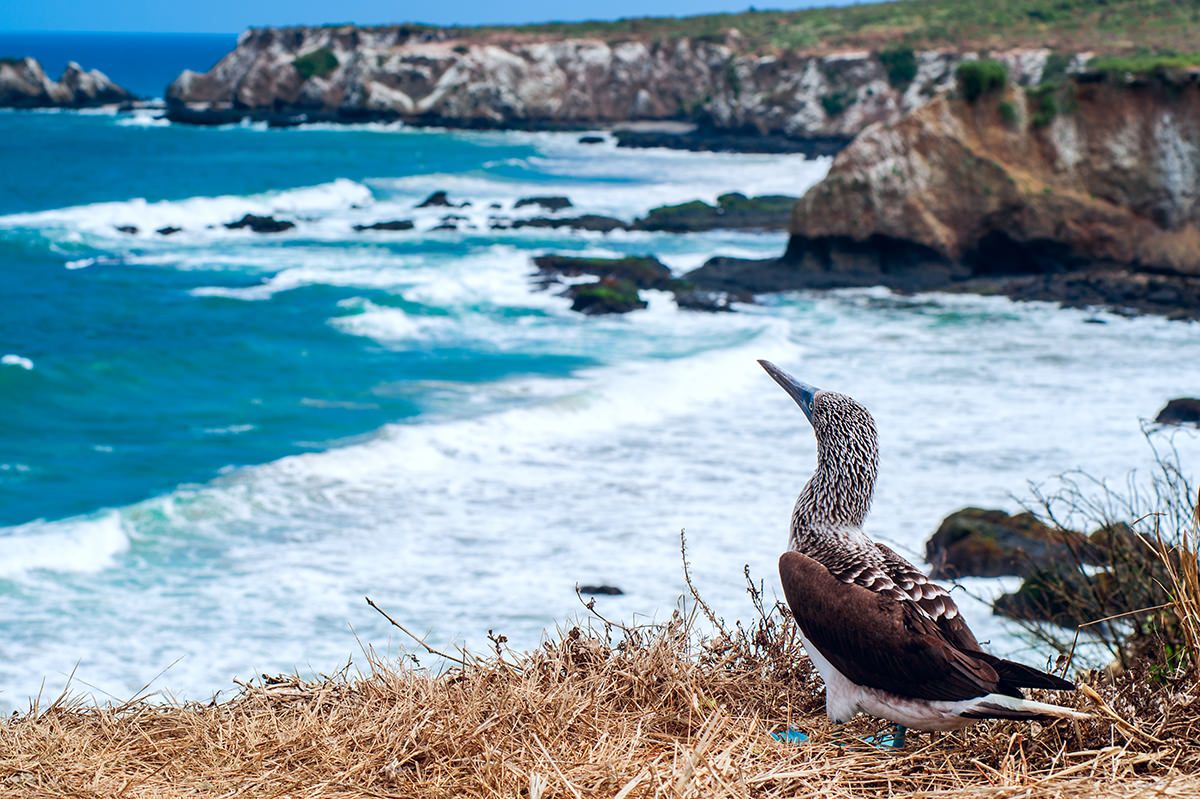 If you want to go to the Galapagos and save money, don't book your trip ahead of time. Instead, hop on a last-minute cruise while you are there and take advantage of deep discounts. We saw many whiteboards outside of tour offices in Quito advertising discounted cruises in the 300-500 range. However, if last-minute Galapagos pricing is still beyond your budget and you're looking for a Galapagos alternative in Ecuador, Sharee from Winging the world suggests a visit to Isla de la Plata.
Also known as the 'Poor Man's Galapagos', Isla de la Plata is the perfect day trip for travelers whose budget doesn't quite match the cost of a cruise around Ecuador's famous islands. Home to many of the same species the Galapagos is known for, visitors can take in the sights of Cormorants, Blue Footed Boobys and even the almighty Albatross (if you're lucky)!
6. Shop Around A Local Indigenous Market
During my day trip to Quilotoa, we stopped at the famous local market of Saquisilí. Here you found animals, baked goods and produce, and home staples for sale. This market is more laid back than the more popular tourist attraction that is the Otavalo market, but they are all quite wonderful to experience. On Sundays, you can visit the Pujili market instead of Saquisilí (visited on Thursdays).
7. Hike Around Cuicocha Lake For Breathtaking Views
As mentioned, Otavalo is a very popular destination in Ecuador, known for its huge, colorful Saturday market: where artisans and local vendors come from all over the valley to sell their own products. For outdoor adventurers, however, the highlight of a trip to Otavalo can very much be a hike around Cuicocha Lake, instead! It's a spectacular 15km (about 9 miles) walk with a relatively low elevation gain (3100m – 3450m).  Isabella from Boundless Roads shares that the best part about this hike is it can be done on your own, with no guide. Every now and then you may meet other walkers, which lets you know how much trail is left.
The lake hike looks (and feels) never ending, but is so enjoyable that you almost don't want it to end. For more information on how to get there and other tips, you can read her post on it.
8. Visit A Traditional Andean Home
Many tour companies in Ecuador can help you book a trip or experience that includes a stop in the Andes mountains to interact with Andean people and visit a traditional family home. You will see guinea pigs being saved for special occasion consumption, vibrantly woven ponchos worn by Andean villagers, and creatively built homes that likely require you to squat to enter. We experienced this trip as part of our Quilotoa excursion, and most tours will offer something similar.
9. Have Fun In The Ecuador Beach Town Of Montañita
How could you not fall in love with Montañita's small beach town? With laid back vibes, jewelry makers, and surfers galore, you'll find yourself wanting to stay longer than intended. This spot has tons of personality for its size, and is a great launch point for water adventures. Get comfortable, brush up on your Spanish and surfing skills, and take advantage of the super cheap late morning breakfast stands and evening drinks down cocktail alley.
Watch out for street food meat, though. While I am a huge supporter of street food, I found Montañita's fluctuating electricity (the power went out a few times) and hot, humid climate meant raw meat sitting out for street burgers is probably not the best idea. Just ask Alex's belly and bowel… they'll attest to that!
To accentuate our stay, we booked a penthouse Airbnb that overlooked the small town and beach and was just a five minute walk from all the action. It was such an awesome place that Airbnb featured my photo on their Instagram and approx. 12,000 people LOVED it.
10. Bike Along La Ruta De Las Cascadas (Waterfall Route)
If you're one for adventure, one of the most amazing things to do in Ecuador is to cycle down the Andes along the Ruta de las Cascdas (the Route of the Waterfalls). Starting in Baños, where it is easy to rent a bike, follow the road downhill. As you slowly descend from cloud forest and active volcanos to the Amazon rainforest far below, you pass several waterfalls – cascading down the hills beside you, and even across the road in parts.
James from Travel Collecting suggests you don't miss the incredible Devil's Cauldron – a thundering waterfall reached on foot down a wooden walkway. When it is time to return home at the end of the day, you can mount your bike on the roof of a bus from Puyo back to Baños, and soothe any sore muscles in the Baños hot springs.
11. Take A River Cruise Through The Cuyabano Wildlife Reserve
There are many options for experiencing the Amazon, as it spans across nine of South America's countries, including Ecuador. The world's largest tropical rainforest, the Amazon is famous for its biodiversity of plants and wildlife. If you want to explore the Amazon during your Ecuador vacation, you'll be in for a treat. Ecuador is home to a plethora of eco-friendly lodges, incredible biodiversity, multi-day tours, and affordable cruises. Whichever you choose, your excursion will teach you a lot about the rainforest's medicinal plants, flora, fauna, and tribal life.
During the river cruise in the Cuyabano Wildlife Reserve, she spotted six species of monkeys, anacondas, crocodiles, river dolphins, macaws, toucans, and sloths. It's an experience well worth a spot on your Ecuador bucket list.